Overview
PLANET's ICF-1700 Internet Multimedia Phone brings you a vivid video conferencing experience easily through the Internet. No PC nor the complex web camera, sound card and software settings are required. Furthermore, the ICF-1700 has a built-in 7" LCD monitor in a telephone form factor ideal for desktop use.

The ICF-1700 is compliant with the SIP 2.0 standard, which means you can have seamless conferencing with other SIP compliant video conferencing systems, voice gateway, IP phones, ATA and IP PBX system. With SIP Proxy Server or MCU (Multipoint Control Unit) support, the ICF-1700 greatly helps your business communications more quickly and cost-effectively.

The ICF-1700 supports multiple languages for most different users. In addition, the ICF-1700 is based on Android OS 2.1 to give friendly touch-screen interface for users to quickly manage its operation. The media files and photographs can also be input into the ICF-1700 via its USB interface for better management or display.

The ICF-1700 features video outputs to external monitor for group meetings showing videos or photographs. Providing outstanding picture and sound quality, PLANET ICF-1700 Internet Multimedia Phone facilitates business communications via Internet.

Application
IP PBX Mode
The ICF-1700 features IP PBX mode to deliver voice over a data network and interoperates with the normal Public Switched Telephone Network (PSTN).

Audio / Video Conference Call
The ICF-1700 can provide video and audio conference service to any meeting room, auditorium and tracing facility by combining with MCU (Multipoint Control Unit).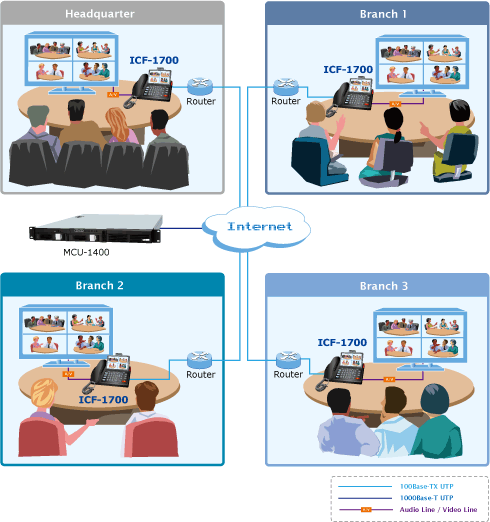 Key Features
Hardware Features
7" color adjustable LCD touch screen with 800x480 pixels
Built-in high quality 2 mega-pixel CMOS camera
Full duplex hands-free speakerphone
Ergonomic handset (acoustical cochlea)
1 x WAN and LAN, supports switch mode
Compliant with IEEE 802.3af PoE standard
Network Feature
DHCP Client on WAN
Main DNS and secondary DNS server
NTP Client
QoS with DiffServ
TR-069
MD5 authentication
Network tools in telnet server: includes ping, trace route, telnet client
VoIP Features
Compliant with SIP 2.0
4 SIP servers, and 3 backup SIP servers
Voice Gain Setting, VAD, CNG
Supports SIP domain, SIP authentication (none, basic, MD5)
DNS name of server,Peer to Peer / IP call
DTMF Relay
Customized music rings
Supports STUN
SMS based on SIP
Professional Speaker / HD Voice
Phonebook records export / import
XML phonebook
Media player (mp3,wav,wma)
USB disk & System files management
Supports VoIP (SIP / RTP) encryption
Management
System Based on Android 2.1
Multilanguage realizes localization
Third party android application, e.g. email,IM,Internet Radio,web browser
Application market
Web,telnet and keypad management
Management with different account authentications
Encrypted configuration files download with AES
Specification
Hardware
Port
WAN 1 x 10/100Base-T RJ-45 for LAN (IEEE 802.3af PoE compliant)
LAN 1 x 10/100Base-T RJ-45 for PC
Handle 1 x RJ9
Headset 1 x RJ9
USB 1 x USB 2.0
Video Output 1 x Mini HDMI

Camera
1 x Tiltable 2 mega-pixel CMOS camera
Audio / Video Input
1 x Ergonomic handset (acoustical cochlea)
Audio / Video Output
1 x built-in 7" TFT LCD, adjustable angle with 800x480 pixels
1 x Full duplex hands-free speakerphone

LED indicator
1 x Power LED (PWR)
1 x Speaker LED
1 x Mute key LED

Software
Video Standard
Video Codec H.263, H.264, MPEG4
Video Solution QCIF, CIF, QVGA
Video Format mp4, 3gp and flv

Audio Standard
G.711A/u, G.7231 high/low, G.729a/b, G.722, G.726, iLBC, AMR-NB, AMR-WB
Image Format
PEG, PNG, GIF and BMP
Network Standard
IEEE 802.3 / IEEE 802.3u / IEEE 802.3af
Network Protocol
SIP 2.0 RFC 3261, TCP/IP, UDP, RTP, HTTP, ARP, ICMP, DNS, DHCP (client), NTP, Telnet
Echo Cancellation
G.168
Access Mode
Static IP, PPPoE, DHCP
Phone Features
Network
System files management
WAN / LAN:support switch mode
IEEE 802.3af PoE on WAN
DHCP Client on WAN
Main DNS and secondary DNS server
NTP Client
QoS with DiffServ
TR-069
MD5 authentication
Network tools in telnet server:includes ping, trace route, telnet client

Basic Features
4 SIP servers, and 3 backup SIP servers
Voice Gain Setting, VAD, CNG
Supports jitter buffer
Supports SIP domain, SIP authentication (none, basic, MD5)
DNS name of server, Peer to Peer / IP call
DTMF Relay:supports Inband, SIP info, RFC2833
Customized music rings
Supports STUN
SMS based on SIP
Professional Speaker / HD Voice

SIP Application
Forward
Transfer (blind / attended / alert)
Holding
Waiting
3-way conference
Paging and intercom
Call park / pickup
Join call
Redial and un-redial
Click to dial
Secondary dialing automatically

Call Control Features
Flexible dial map
Hotline
Empty calling number reject service
Black list for rejected authenticated call
White list, limit call
Do no disturb, auto answer
Caller ID, CLIR (reject the anonymous call)
CLIP (make a call with anonymous)
Dial without register

Advanced Application
Application market
Desktop widget / Google search
Multilanguage realizes localization:English, French, Arabic, German, Italian,Korean, Portuguese, Russian, Spanish, Turkish and Chinese (Traditional/Simplified)
Human voice caller ID indication
Human voice num keypad indication
Predial
Voice recording during talking / auto answer / local
Incoming calls / outgoing calls / missing calls, supporting 100 records, respectively.
Supports Phonebook up to 2000 records
Phonebook records export / import
XML phonebook
Photo frame
Media player (mp3, wav, wma)
Supports pushing message
Supports VoIP (SIP/RTP) encryption (e.g. RC4)

Management
Android OS 2.1
Third party android application, e.g. email, IM, Internet Radio, web browser
USB disk file management / Firmware upgrade
Web, telnet and keypad management
Management with different account authorizations
Automatic provision upgrades / configuration deployment
Encrypted configuration files download with AES