Overview
Combining the cutting edge of Internet telephony and PBX manufacturing experience, PLANET has launched the latest member of PLANET wireless family, IPX-300W.

To bring the most satisfaction to customers, the IPX-300W not only provides high-quality voice communication and wired Internet sharing capabilities but also offers access point (AP) function for daily wireless communication.

PLANET IPX-300W Wi-Fi IP PBX Telephony Systems are designed and optimized for the small business in daily communication. It can support up to 100 user registrations and easy to install and manage a full working system with the advantages of convenience and cost. The future Wi-Fi IP PBX telephony system offers all of the essential features of telephony which are required by small business users for their telecommunication / data needs.

The IPX-300W is a feature-rich SIP based Wi-Fi IP PBX telephony system that integrates NAT functions to make it perfect for small business usage. The IPX-300W integrates traditional PBX system functions and provides many advanced functions including voice mail to email, web management, etc. Designed to run on a variety of VoIP applications, the IPX-300W provides IP-based communications, voice conferencing, call detailed record (CDR), centralized Auto-Attendant (AA), and Interactive Voice Responses (IVR). The IPX-300W utilizes standard PSTN / GSM lines via the interfaces of FXO / GSM gateway to become a feature-rich Wi-Fi IP PBX telephony system that supports seamless communication among existing local calls, SIP-based endpoints including low cost of long distance service, telephone number portability and one network for both voice and data.

With a built-in IEEE 802.11b/g wireless AP / CPE, the Wi-Fi IP PBX offers wireless connectivity via 54Mbps data transmissions. Users may integrate PLANET IP Phone VIP-154T series, VIP-155PT / 350PT / 550PT, VIP-156 / 157 / 158 / 161W ATA (analog telephone adapter) series, VIP-191 / 192 Wi-Fi phone series, and Gateway VIP-281 / 281GS / 480 series to build the VoIP network deployment in minutes.

Application
IPX-300W Intra-Office Voice Communication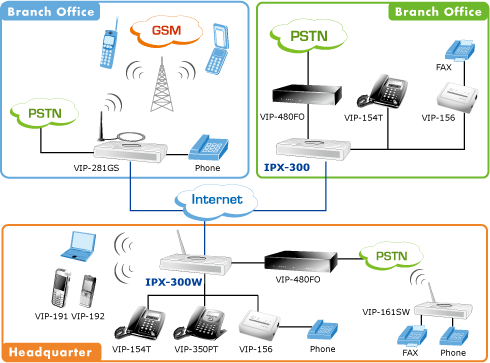 Key Features
PBX Features
Automated Attendant (AA)
Interactive Voice Responses (IVR)
Voicemail support (VM)
Call Detailed Record (CDR)
User Management via Web Browsers
Call / Pickup Group
Display 100 Registered User's Status: Unregistered / Registered / On-Call
Call Features
Call Forward Immediate
Call Forward on Busy
Call Forward on No Answer
Call Pickup / Call Park
Caller ID
Music on Hold / Music on Transfer
Call Transfer / Call Hold / Call Waiting
Three-way conference with feature phones (VIP-154T series, VIP-155PT/350PT/550PT and VIP-156/157/158/161W series)
Router / Firewall Features
DHCP Server for LAN Users
Packet / URL Filter
Virtual Server / DMZ / Port Trigger
Static Route
NAT / Bridge mode
UPnP
Specification
Hardware
WLAN Standards
IEEE 802.11 b/g
Wireless Frequency Range
2.4GHz ~ 2.4835 GHz
Security
64/128 bit WEP data encryption, WPA, WPA-PSK, WPA2, WPA2-PSK, WPA / WPA2 mix mode, WPAPSK / WPA2PSK mix mode
Operating Frequencies / Channel
USA / Canada: 2.412 GHz - 2.426 GHz (11 channels)
Europe: 2.412 GHz - 2.472 GHz (13 channels)
Japan: 2.412 GHz - 2.477 GHz (14 channels)
Data Rate
802.11b: CCK (11Mbps,5.5Mbps), DQPSK (2Mbps), DBPSK (1Mbps)
802.11g: OFDM (54Mbps, 48Mbps, 36Mbps, 24Mbps, 18Mbps, 12Mbps, 9Mbps, 6Mbps)
Wireless Signal Range*
Indoors: Up to 230 ft (70 meters)
Outdoors: Up to 1050 ft (320 meters)
LAN
1 RJ-45 (10/100Base-TX, Auto-Sensing / Switching)
WAN
1 RJ-45 (10/100Base-TX, Auto-Sensing / Switching)
Standards and Protocols
Call Control
SIP 2.0 (RFC3261) , SDP (RFC 2327), Symmetric RTP
Registration
Max. 100 nodes / SIP IP phones / ATA / FXO gateways
Calls
Max. 30 concurrent calls
Voice CODEC Support
G.723, G.726, G.729, G.711, GSM, iLBC
Voice Processing
DTMF detection and generation
In-Band and Out-of-Band (RFC 2833), (SIP INFO)
Supports password authentication using MD5 digest
PBX Features
Auto Attendant (AA)
Interactive Voice Response (IVR)
Records IVR via IP Phone
Voicemail Support (VM)
Voicemail Send to E-mail
Call Detailed Record (CDR)
User Management via Web Browsers
Web Firmware Upgrade
Backup and Restore Configuration file
Call / Pickup Group
Displays 100 Registered User's Status: Unregistered / Registered / On-Call
Displays 20 Registered Trunk's Status: Unregistered / Registered
Fax Support using G.711 Pass-Through or T.38**

Call features
Caller ID
Call Group
Call Hold
Call Waiting
Call Transfer
Call Forward (Always, Busy, No Answer)
Call Pickup
Call Park
Call Resume
Music on Hold
Three-way conference with feature phones (VIP-154T series, VIP-155PT / 350PT / 550PT and ATA series: VIP-156 / 157 / 158 / 161W)
Internet Sharing
Protocol
TCP / IP, UDP / RTP / RTCP, HTTP, ICMP, ARP, NAT, DHCP, PPPoE, DNS
Advanced Function
NAT / Bridge mode, DHCP server, Static Route, DMZ, Virtual Server, Port Trigger, Packet / URL Filter, UPnP, DDNS, SNMP, Ping test
Network and Configuration
Connection Type
Static IP, PPPoE, DHCP
Management
HTTP Web Browser
LED Indications
System: 1, PWR
WAN: 1, LNK / ACT
LAN: 1, LNK / ACT
Environment
Dimensions (W x D x H)
180 x 110 x 25 mm

Operating Temperature
0~40 degrees C, 0~90% humidity
Power Requirement
12V DC
EMC / EMI
CE, FCC Class B
Remark
* Signal Range depends on the used antenna
**T.38 support is dependent on fax machines, SIP providers and network / transport resilience