Overview
For a cost-effective and high performance VoIP communications today, PLANET has come out with the VIP-254NT SIP IP Phone with PSTN support to fulfill the VoIP deployment needs of ITSPs, enterprises and homes. The built-in PSTN interface provides user more convenience between IP Phone and PSTN call selections.

The VIP-254NT features high-quality speakerphone technology and provides various voice services including speaker on/off, call hold, call transfer and 3-way conference with user-friendly speed dial button design. It also has additional features such as built-in PPPoE / DHCP clients, password-protected machine management, LCD menu display, last number redial, incoming message indicator, and user-intuitive web administration system.

The VIP-254NT brings the benefits of VoIP technologies to your daily life. It is the SIP IP phone featuring self-contained, service-integrated, intelligent phone functions, and powerful voice processing. The VIP-254NT can effortlessly deliver toll voice quality equivalent to the regular SIP protocol connections by utilizing cutting-edge Quality of Service, echo cancellation, comfort noise generation (CNG) and voice compensation technology. The dual Ethernet interfaces on the IP Phone allow users to install it in an existing network without interfering with desktop PC network connections. The VIP-254NT is an ideal solution for office / home use as well as for Internet Telephony Service Provider (ITSP).

Application
VIP-254NT Communications via PSTN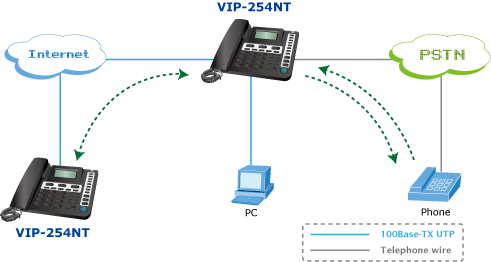 Enterprise IP PBX Deployment with VIP-254NT IP Phone

Key Features
SIP 2.0 (RFC3261) compliant
G.711, G.723.1 and G.729 voice codec
Supports STUN, Outbound Proxy
Selective PSTN / VoIP voice communications
PSTN / VoIP incoming call alerting
Up to 5 Proxy server registrations
3-Way Conference / Caller ID
Built-in phone book / Speed dial
Call Hold / Waiting / Transfer / Forward
VAD / CNG / AEC / PLC / AJB /AGC
Incoming / Outgoing / Miss Call record
QoS / NAT / DHCP Server
Web / Keypad management
Specification
Hardware
WAN
1 x 10/100Mbps RJ-45 port
LAN
1 x 10/100Mbps RJ-45 port
Telephone Interface
1 x RJ-11 (PSTN connectivity)
LCD Display
2 x 16 characters
Speaker
Full duplex hands free speaker phone
Protocols and Standard
Standard
SIP 2.0 (RFC3261), MD5 for SIP authentication (RFC2069/ RFC 2617), SIP outbound proxy, SIP NAT Traversal Support STUN (RFC3489)
Protocols
SIP 1.0 (RFC2543), SIP 2.0 (RFC3261), TCP/IP, UDP/RTP/RTCP, HTTP, ICMP, ARP, RARP, DNS, DHCP, SNTP, PPPoE
Voice Codec
G.711: 64k bit/s (PCM)
G.723.1: 6.3k / 5.3k bit/s
G.726: 16k / 24k / 32k / 40k bit/s (ADPCM)
G.729: 8k bit/s

Voice Standard
Voice activity detection (VAD)
Comfort noise generation (CNG)
Acoustic echo canceller (AEC)
G.165: Line echo canceller (LEC)
Jitter Buffer

Supplementary Services
Caller ID
3-Way conference
Immediate (unconditional) call forwarding
Busy call forwarding
No answer calls forwarding
Call Hold / Waiting / Transfer

Call History
Record incoming call
Outgoing call
Missed (not accepted) call history

Network and Configuration
Access Mode
Static IP, PPPoE, DHCP
Management
Web, LCD menu keypad, auto-provision by TFTP/FTP/HTTP
Dimensions (W x D x H)
168 x 220 x 60 mm
Operating Environment
0~50 degrees C, 0~90% humidity
Power Requirement
7.5V DC, 1A
EMC / EMI
CE, FCC Class B