Overview
Combining the cutting edge Internet Telephony and VoIP Router manufacturing experience, PLANET has come out with the latest member of PLANET Wireless VoIP Router family: the VIP-281SW.

The VIP-281SW provides not only high-quality voice communications and wired Internet sharing capabilities but also the access point (AP) function for flexible wireless communication. With advanced router and VoIP DSP processor technology, the VIP-281SW is able to make calls via SIP proxy voice communications plus the IP sharing and the QoS mechanism.

By applying the VIP-281SW, home users and companies are able to save installation cost and extend the VoIP network from their previous investments in telephones, conferences and speakerphones. The VIP-281SW is equipped with two telephony interfaces, so users may register to different SIP proxy servers and establish up to 2 concurrent VoIP calls for more flexibility in the voice communications. The VIP-281SW can also be the bridge between traditional analog telephones and IP network with an extremely affordable investment.

With built-in IEEE 802.11b/g/n wireless network capability, the VIP-281SW allows any computer and wireless enabled network client to connect to it without additional cabling. The 802.11n wireless capability gives users the highest speed of wireless experience ever. With an 802.11n compatible wireless adapter installed in your PC, the files can be transferred at up to 300Mbps. The radio coverage is also doubled to offer the high speed wireless connection even in a wide space of your office or house.

To secure the wireless communication, the VIP-281SW supports most up-to-date encryptions: WEP, WPA-PSK and WPA2-PSK. In addition, the VIP-281SW supports WPS configuration with PBC/PIN type for users to connect to a secured wireless network easily.

Application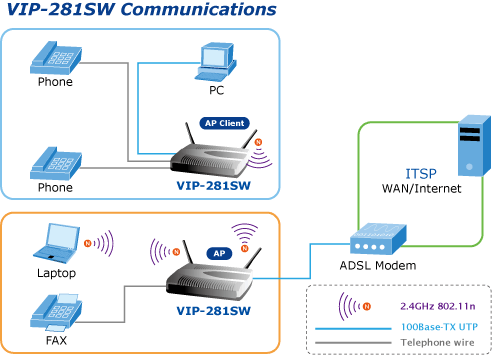 Key Features
Product Features
IEEE 802.11b/g/n wireless standard compliant
Multi-mode: AP, AP-Client Mode
Smart QoS mechanism to ensure the voice quality
Auto-Provision feature for flexible, ease-of use system integration
NAT Router, Port Forwarding, DMZ
IP ToS (IP Precedence) / DiffServ
Voice prompt for machine configurations
Supports 64/128-bit WEP, WPA, WPA-PSK, WPA2, WPA2-PSK and 802.1x encryption
VoIP Features
SIP 2.0 (RFC3261) compliant
Up to 2 concurrent VoIP calls
Voice codec support: G.711, G.729AB, G.723, G.276, GSM and G.722
T.38 FAX transmission over IP network (G.711 Fax pass-through)
In-band and out-of-band DTMF Relay (RFC 2833)
3-Way conference calls
Call Waiting / Forward / Transfer / Hold / Resume
Caller ID Detection / Generation: DTMF, BELLCORE, ETSI, BT, NTT
Voice processing: VAD, CNG, Dynamic Jitter Buffer, G.168 Line Echo Cancellation
SNMP v1/v2 and Auto Provision management
Specification
Hardware
WLAN Standards
IEEE 802.11 b/g/n
Wireless Frequency Range
2.4GHz ~ 2.4835 GHz
Wireless Mode
AP, Client, WDS and AP+WDS mode
Security
64/128 bit WEP data encryption, WPA, WPA-PSK, WPA2, WPA2-PSK, WPA/WPA2 mix mode, 802.1x encryption and WPS PBC
Operating Frequencies / Channel
USA/Canada: 2.412 GHz – 2.426 GHz (11 channels)
Europe: 2.412 GHz – 2.472 GHz (13 channels)
Japan: 2.412 GHz – 2.477 GHz (14 channels)

Wireless Data Rate
IEEE 802.11b: CCK (11Mbps,5.5Mbps), DQPSK (2Mbps), DBPSK (1Mbps)

IEEE 802.11g: OFDM (54Mbps, 48Mbps, 36Mbps, 24Mbps, 18Mbps, 12Mbps, 9Mbps, 6Mbps)

IEEE 802.11n: 14/29/43/58/87/116/130/144Mps in 20MHz,
30/60/90/120/180/240/270/300Mbps in 40MHz

Antenna
2 x 2dBi Detachable Antenna
WDS
WDS repeater support
WAN
1 x 10/100 Base-TX RJ-45 port
LAN
4 x 10/100 Base-TX RJ-45 port
FXS (for telephone set connection)
2 x RJ-11 connection
Protocols and Standard
Standard
SIP 2.0 (RFC3261), SDP (RFC 2327), Symmetric RTP, STUN (RFC 3489), , ENUM (RFC 2916), RTP Payload for DTMF Digits (RFC2833), Outbound Proxy Support, uPnP (UPnPTM)
Voice Codec
G.711(A-law /μ-law), G.729AB, G.723 (6.3 Kbps / 5.3Kbps), G.276 (16,24,32,40 Kbps), GSM and G.722
Fax Support*
T.38 (G.711 Fax pass-through)
Voice Standard
VAD (Voice Activity Detection)
CNG (Comfort Noise Generation)
G.168: LEC (Line Echo Canceller)
Dynamic Jitter Buffer
In-band and out-of-band DTMF Relay (RFC 2833)
Caller ID Detection/Generation: DTMF, BELLCORE, ETSI, BT, NTT

Protocols
SIP 2.0 (RFC-3261), TCP/IP, UDP/RTP/RTCP, HTTP, ICMP, ARP, DNS, DHCP, NTP/SNTP, PPP, PPPoE
Internet features
NAT router, DHCP server, Static routing, Virtual server, Virtual DMZ, Smart QoS, IP ToS (IP Precedance) / DiffServ
Security
Built-in NAT Firewall
MAC / IP / Port Filtering
URL Filtering
Port Forwarding, DMZ
Password protection for system management

Network and Configuration
Access Mode
Static IP, PPPoE, DHCP
Configuration & Management
Web-based Graphical User Interface
Remote management over the IP Network
Web-based firmware upgrade
Backup and Restore Configuration file
SNMP v1/v2, Auto-Provision, Keypad on telephone set

Dimensions (W x D x H)
186 x 143 x 35 mm
Operating Environment
0~50 degrees C, 5~90% humidity
Power Requirement
12V DC
EMC/EMI
CE, FCC Part 15 Class B
*T.38 support is dependent on fax machine, SIP provider and network / transport resilience.