Overview
Flexibly Extend VoIP System by up to 240 Programmable Lines
The VIP-36EXT voice line expansion module is designed to work with the VIP-361PE in enhancing the flexibility of the VoIP system. The VIP-36EXT features 40 fully programmable buttons in which each, with dual-color LED, is connected to and controlled by the IP Phone via RJ-11 cable. These function keys support Speed Dial, BLF (Busy Lamp Field), Shortcut Keys and Call Park. The VIP-36EXT creates up to 240 programmable extensions when 6 expansion modules are daisy chained with the Enterprise IP Phone.

Integrated with PLANET Advanced Enterprise IP Phone, the VIP-36EXT is perfect for receptionists, call center agents, administrative assistances, executives and power users who need to monitor and manage a large volume of calls on a regular basis.
Application
Enterprise IP PBX Deployment with the VIP-361PE PoE IP Phone and VIP-36EXT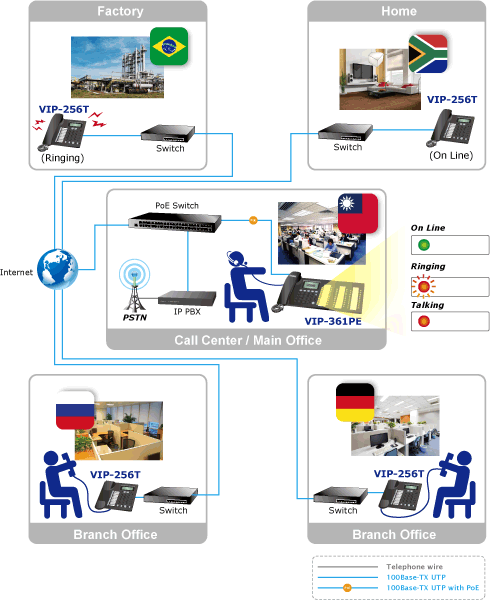 Key Features
• Provides up to 240 programmable lines by 6 modules daisy-chained
• Supports Busy Lamp Field (BLF)
• Connects IP Phone with RJ-11 cable
• Power fed by the connected IP Phone
• 40 multi-functional keys applicable for Speed Dial, BLF, Shortcut Key, Pick up and Call Park functions

Specification
Hardware
Programmable Button
40 multi-functional keys with dual-color LED
Physical Interfaces
2 x RJ-11 ports for data in and out (EXT)
Environment
Power Requirements
DC 5V or connect with the VIP-361PE PoE IP Phone
Operating Temperature
0 ~ 50 degrees C
Operating Humidity
10 ~ 90% (non-condensing)
Weight
240g
Dimensions (W x D x H)
132 X 167 X 51 mm
Emission
CE, FCC
Connectors
Two RJ-11 EXT in / out
DC power jack