Overview
Flexibly Extending VoIP System by up to 260 Programmable Lines
PLANET VIP-EXT-40 voice line expansion module is designed to work with PLANET VIP-6040PT, an enterprise color IP phone, which can enhance the flexibility of VoIP system. The VIP-EXT-40 features 40 fully-programmable buttons, in which each comes with dual-color LED, and is controlled by the VIP-6040PT via RJ-45 cable.

Enhanced, Full-Featured Business IP Phone
The VIP-6040PT can expand the capability of your VoIP phone to a whole new level. These function keys support Call Hold, Call Park, Multi-function Pickup, Redial, Call Return, Forward, Call Transfer, Caller ID Display, Do Not Disturb (DND), Conference, Speed Dial, Voicemail, Message, BLF, Shared Line, Private Hold, Multiple Functions, Public Hold, and more.


Photo Caller ID, Color Icon
The VIP-6040PT comes with color icons for different functions to enable you to identify the functions easier. User can also upload photo to BLF extension to "see" the call status. Integrated with PLANET VIP-6040PT advanced enterprise IP phone, the VIP-EXT-40 is perfect for receptionists, call center agents, administrative assistants, executives and power users who need to monitor and manage a large volume of calls on a regular basis.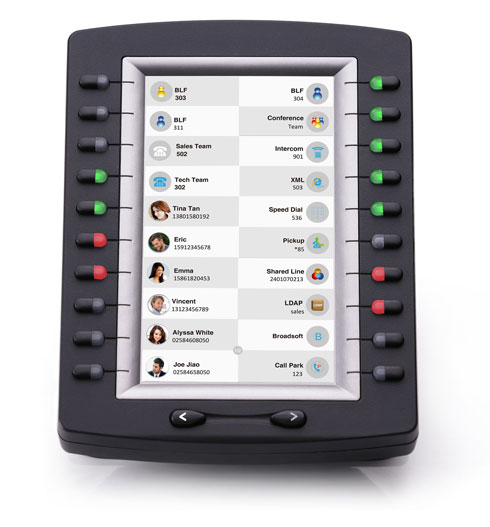 Busy Lamp Field (BLF)
The VIP-EXT-40 supports Busy Lamp Field (BLF) function that, via the lights on the phone, enables users to easily identify the status of other phones which are connected to the same IP PBX, such as busy, idle, ringing, etc. The connected IP PBX must also support BLF feature. The BLF function is helpful for a receptionist on the front desk to route all incoming calls smoothly.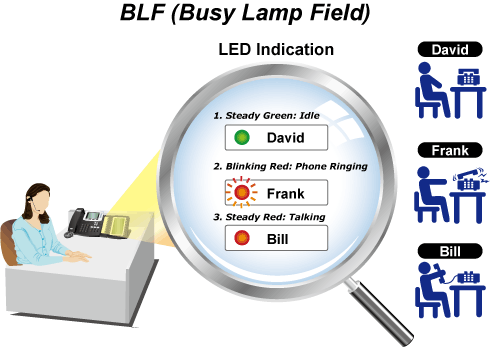 Application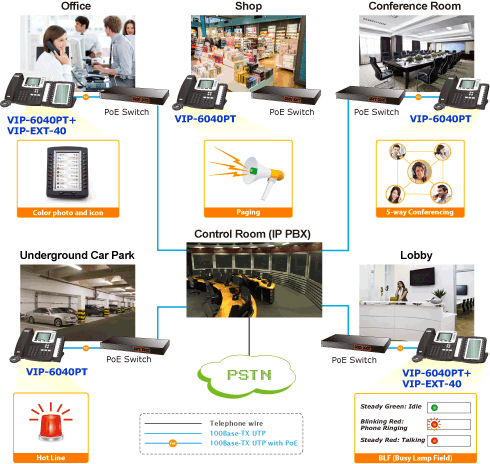 Enterprise IP PBX Deployment with the VIP-6040PT and VIP-EXT-40
Key Features
Highlights
Large 960 x 540 color graphic LCD
20 programmable keys, each with a dual-color LED
6 daisy-chain modules for 240 programmable buttons
2 control keys for fast switch pages
Rich features, each with a different icon
Compatible with PLANET VIP-6040PT business color IP phones
Specification
Hardware
Programmable Button
40 multi-functional keys with color graphic LCD
Physical Interfaces
2 x RJ-45 ports for data in and out (Ext.)
Product Feature
Main Features
40 programmable buttons per module
Busy Lamp Field (BLF)
Dual color LED for status indication
Speed dial for each line
6 daisy-chain modules for 240 programmable buttons
Supports the configuration of the URL of remote phonebook
Supports Speed Dial, Intercom, DND, Forward, Redial, Call Return, SMS, Directory, Menu, History, Network Call Log, Multiple Function Phone Book

Environment
Power Requirements
Input: 100-240V
Output: 5V / 1.2A

Operating Temperature
-10 ~ 50 degrees C
Operating Humidity
10 ~ 95% (non-condensing)
Weight
340 g
Dimensions (W x D x H)
125 x 168 x 40 mm
Emission
CE, FCC
Connectors
Two RJ-45 Ext. in / out
DC power jack
2 control keys